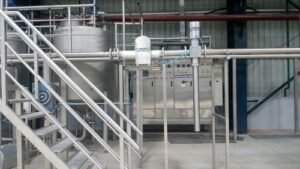 SMMS Pipeline Metal Detector is especially custom build for liquid product processing Industries. Pipeline Metal Detector helps in detecting accidental metal or nonmetal contaminants in the liquid, paste alike, pulps or slurry kind food products or even the other FMCG Industrial products. SMMS Pipeline Metal Detector is in the category of packaging metal detectors.
About the Pipeline Metal Detector
SMMS provides professional and support help for designing, building and installation of a wide range of Pipeline Metal Detector for various Industries in India. Pipeline Metal Detector is being carefully manufactured with the help of expert engineers keeping in mind the quality and grades of the detectors. Its working process make sure to not waste a large amount of liquid products. Rather it focusses on elimination of various metal traces in the liquid mixture.
Many kinds of liquid, slurry, and meats products are passed through the detector system during quality check process in the Industry. Such kind of detector constructed with the SS316. They make pipeline Metal Detector with custom designs and sizes regarding to the client's different Industrial requirements. It consumes power supply of 23V AC with the frequency of 50 HZ in a single phase. It is well package with wooden packaging for supplying and exporting many pipeline metal detectors. They can change its pipe sizes as per the requirements.
Best features of SMMS Pipeline Metal Detector
High sensitive to accurate metal detections
Has password and security
It comes in custom sizes and compact designs.
The SMMS Pipeline Metal Detector is very user
It functions devoid of noise
Functions with very high speed
Precise detection and rejection for products
Includes protection and security levels with passwords
Has print option
Has a stable and smooth working process
Has strong shield which Prevents leakage of liquid products.
Includes digital screen touch for operating it
It is durable, reliable, and cost-efficient
SMMS brand's Pipeline metal detector with trustful performance
Error-free working system
We at SMMS have the immense overall experience to manufacture, exporting and supplying bulk metal detector systems in India. SMMS covers all the specifications needed for the great performance of the Pipeline Metal Detector. Our Pipeline Metal Detector systems are of high quality and work with great accuracy. If you need any query support or want to purchase in bulk, then do contact us at +91-9821241928 or at the email id – mks@mre.net.in.